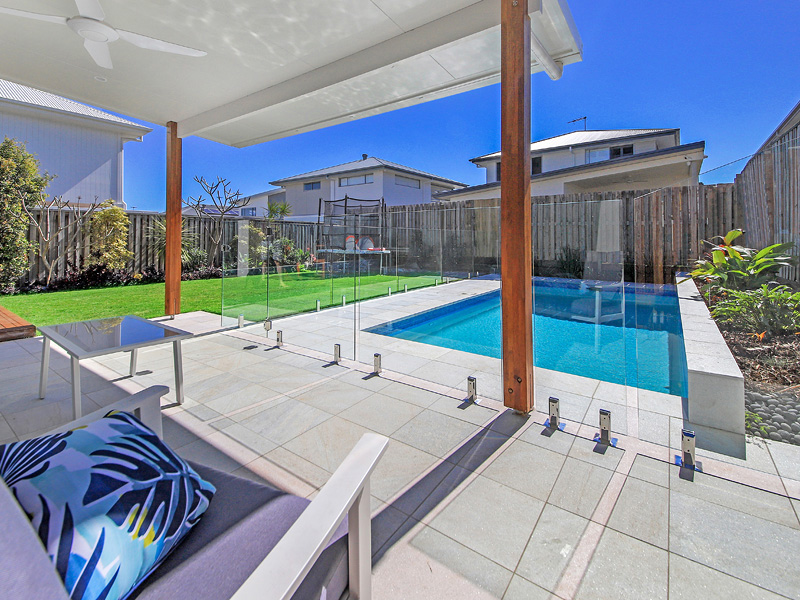 Concrete Inground Pools in Brisbane
For custom inground pools in Brisbane that add value to properties and enliven home lifestyles, Bellevista Pools has you covered. We are specialists in custom inground pool design and construction. Well known as one of leading designers for concrete inground pool builders in Brisbane. Combine outstanding functionality with beautiful aesthetics and premium materials.
With our emphasis on innovative custom inground pool designs that meet your lifestyle needs and complement your home. Our new concrete inground pools are custom designed to suit your space and deliver exceptional functionality and safety. From lap pools that maximise space on narrow inner-city blocks to large family swimming pools in the suburbs. Our pool builders deliver inground concrete pools Brisbane homeowners can be proud of.
We have specialised in custom inground pool design and construction since 1987. We now have a strong reputation for designing and building premium quality inground swimming pools. Brisbane clients benefit from our extensive experience, competitive prices and attentive customer service that puts you first.
Are you looking for experienced Brisbane pool builders?
Our team promises hassle-free design, approval and construction processes, entrust your swimming pool project to us.
View our gallery to see some of the beautiful custom pools we've designed and built across Brisbane.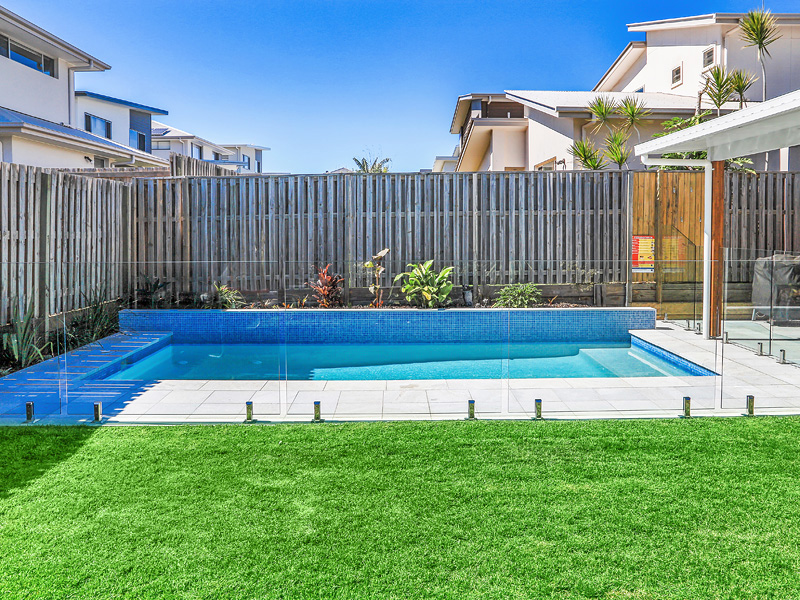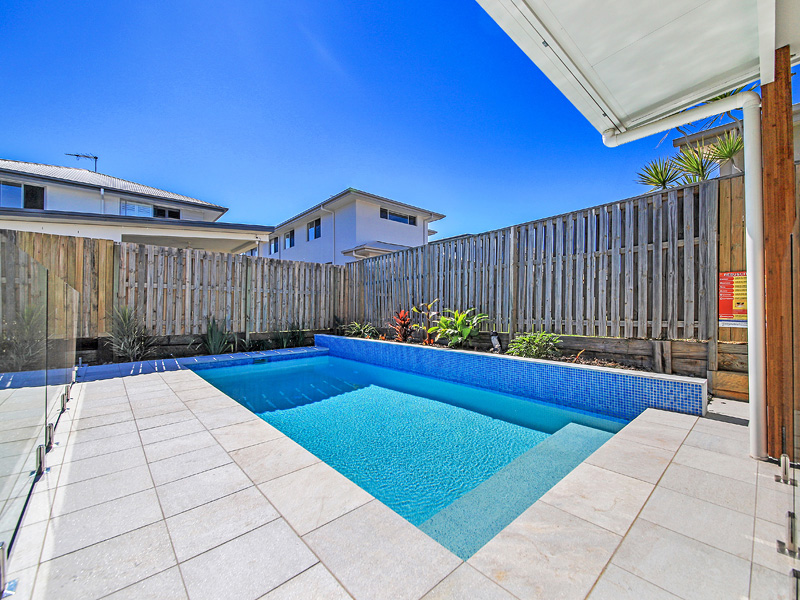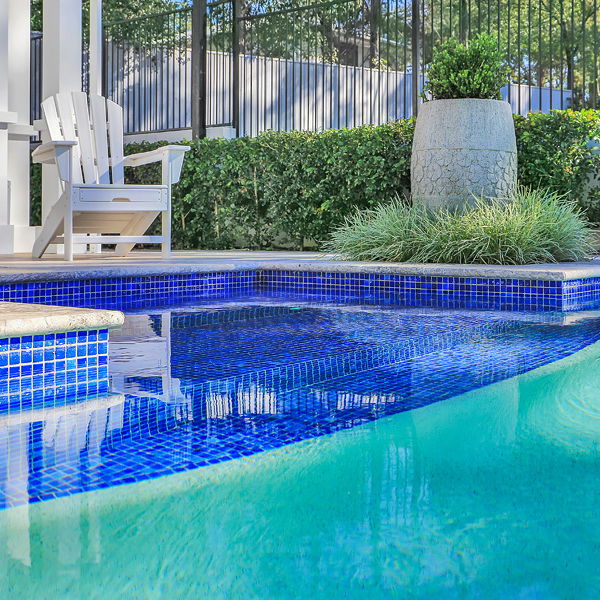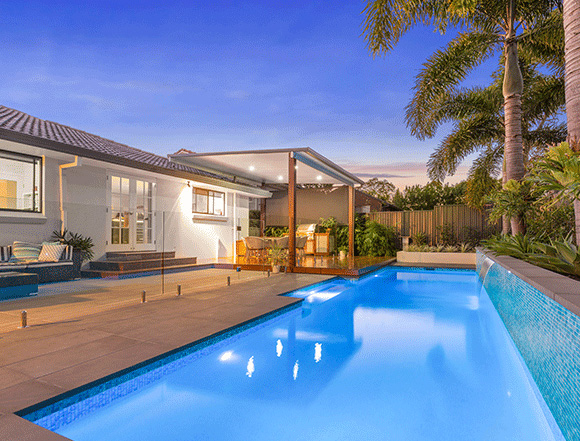 Looking for Custom Inground Pool Design Ideas and Inspiration?
Inground swimming pools are available in an extensive variety of shapes, sizes and styles. You have many options to consider when searching for design ideas and inspiration for your new concrete inground pool. Brisbane is well-known for its heavenly climate, one that makes having a pool at home an investment. Delivering countless benefits for all local homeowners and their families.
The right swimming pool construction project adds significant value to Brisbane lifestyles and homes. As an innovative, client-centric pool company, our team of specialist concrete pool builders work closely with our valued clients. We will endeavour to make the best recommendations about pool designs with all the options and features you can choose from.
Not Sure What You're Looking For?
Our Brisbane pool building team can guide you on what will and won't work for your space.
This may include expert advice on decking, landscaping and all other aspects of your swimming pool project. From customised swimming pool steps, tanning ledges and swim out shelves to disappearing edges, waterfalls and cascading water features. Bellevista Pools designs and builds beautiful inground pools for Brisbane homes and lifestyles.
Concrete Pools
We build beautiful & functional in-ground concrete swimming pools.
Lap Pools
We build beautiful & functional in-ground lap pools.
Small Plunge Pools
We build beautiful & functional in-ground plunge pools.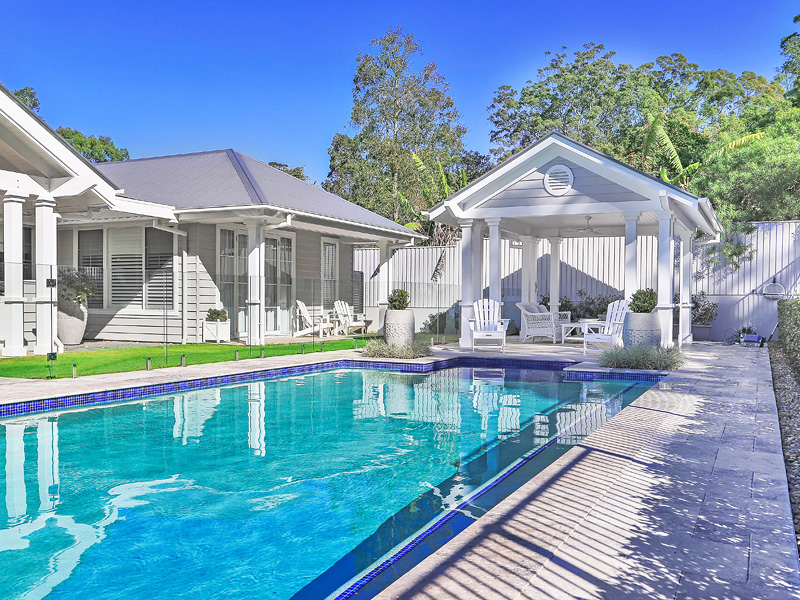 Inspired Pool Designs to Enhance Brisbane Lifestyles
To create the perfect design for your new inground pool, we will take into account its use day to day. Additionally the maintenance requirements, surrounding environment and, of course, safety. The most important aspect of designing concrete inground pools that just can't be overlooked.
To remain the leading inground pool builders in Brisbane we need remain updated with the latest in pool design and construction. We do this so that we offer you an extensive selection of innovative and inspiring pool designs. All of which are custom made for your usage and lifestyle needs, budget and space.
Swimming Pool Options & Features
Brisbane pool builders Bellevista Pools can tailor a new swimming pool design which incorporates a wide range of options and features to suit every purpose and preference. The swimming pool options and features we offer Brisbane homeowners currently includes:
Filtration Systems
As with all the quality products we use in the construction of our inground pools, our pool filters are built to stand the test of time. And, of course, they're included in the price.
Pool Heating
If you're looking for year-round comfort with your new concrete swimming pool, you'll be pleased to note that Bellavista Pools provides a variety of solar heating options.
Spas
What better way to laze away the hours and indulge yourself than with a luxurious spa pool? Our design team can help you select the perfect spa pool design to suit the aesthetics of your new swimming pool and outdoor space.
Electrical Work
Electrical work carried out by a qualified electrician is required to connect the pool filter and options extras such as pool lighting. Bellavista Pools gives you the option of arranging your own electrical work or we can suggest a qualified local electrician for you.
Water Features and Disappearing Edges
We offer a great selection of water features, including waterfalls and disappearing edges. We can tailor pool edges to seamlessly blend into the background and implement a variety of water features into the design of your new pool.
Pool Lighting
Pool lighting enables you to use your swimming pool throughout the evening, provides appealing aesthetics, and enhances pool safety. Bellavista Pools supplies a superb range of low maintenance LED lights which have a lifespan of 70,000 hours.
Pool Finishes
To complete the look of your new concrete swimming pool, we offer pool finishes to suit everyone's preferences and tastes, including stone, tile and pebble. Fully tiled and Quartzon interiors are also available.
Statues, Ornaments and Rockeries
We can incorporate just about any ornament into your new pool design to suit the look you're after, as well as help you create your very own oasis with a custom-designed rockery that softens and naturalises your swimming pool environment.
Fencing, Landscaping and Decking
To complement your existing landscaping and create an attractive swimming pool area enclosed by a boundary fence (aluminium, glass, brick and block) that meets the latest regulations, let Bellavista Pools assist you with your pool surround landscaping project.
Pool Blankets
For year round water and warmth retention, we recommend complementing your new pool with a durable swimming pool blanket. A variety of premium pool blankets to suit pools of all shapes and sizes are available.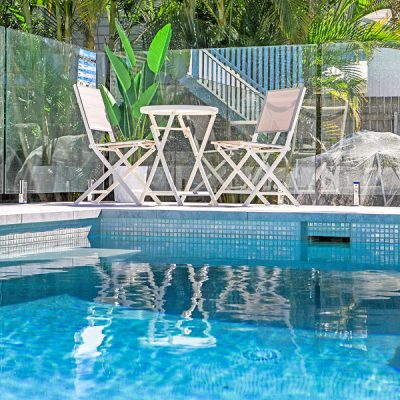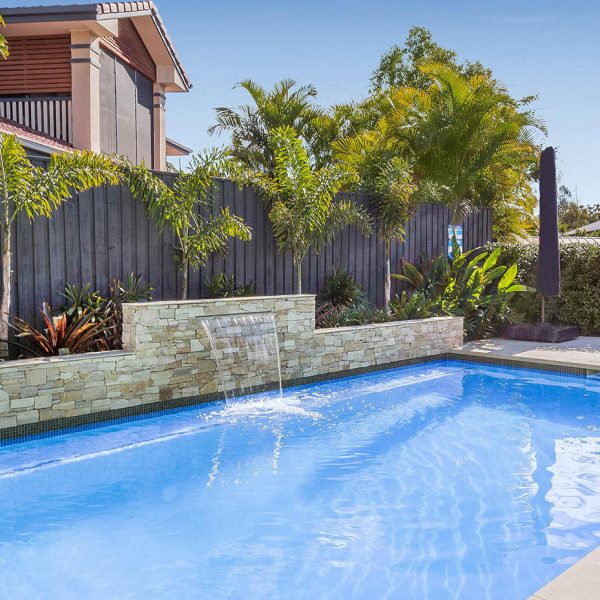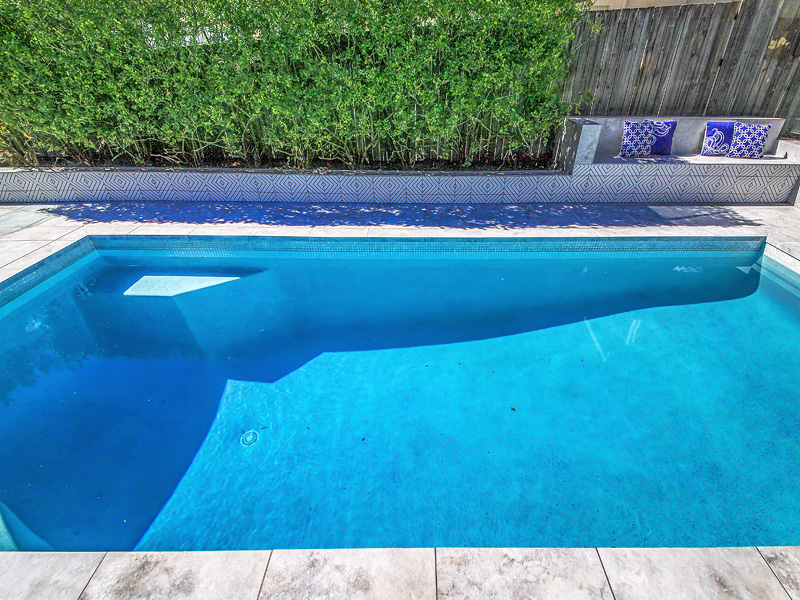 Found a swimming pool design that's caught your eye?
We suggest having concept photos for your consultation and we will find a solution that best suits your space and budget. Our swimming pool construction projects complement Brisbane homes and invigorate lifestyles start with great designs. We will ensure that your design is perfect and your project gets off to the best start possible.
Are you ready to discuss your ideas for your new pool with the leading swimming pool builders in Brisbane?
Call Bellevista Pools on (07) 3245 5542 or contact us online.